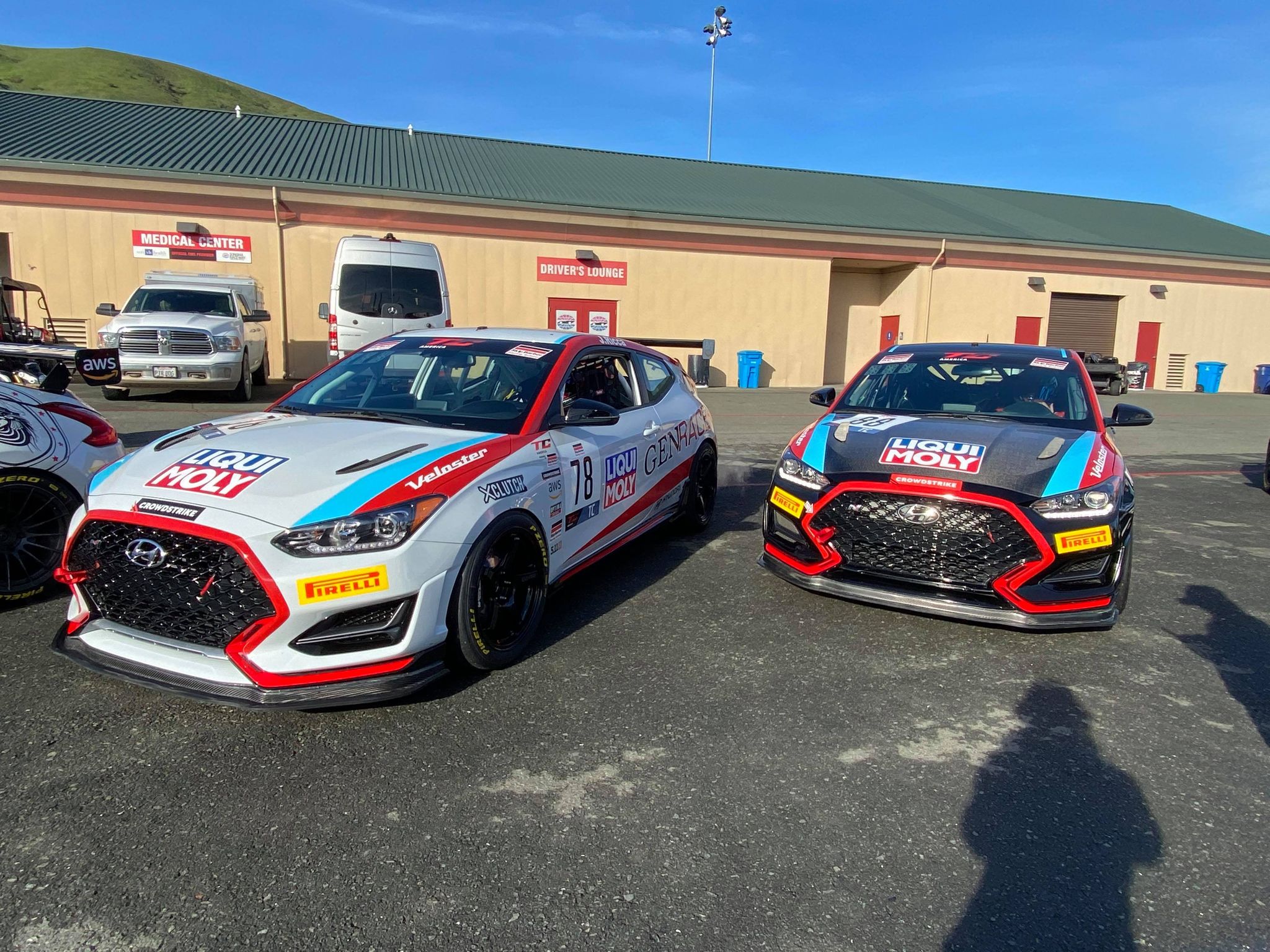 Friday – Practice
Friday's practice sessions were tough for us being that it was our first time at Sonoma. We had to move quickly to adapt the cars to the tight, technical aspects of the course as well as adapt to the rough, super abrasive surface. Using some experience from tracks like Sonoma we got a reasonable setup on the car (lower spring rates and alignment changes) and set out to do some hot laps. FP1 needed improvement by at least 2 seconds – so we worked straight through until FP2. "More spring adjustments - add some toe out in the rear – lets get the car to rotate better!". FP2 saw about 1.5 second improvement – getting better, but still need to get the cars to work better for Qualifying on Saturday – It's going to be a late night.
Tinkering with the cars until almost midnight on Friday night is a normal thing for GenRacer – we need to make sure we are diligent about getting the cars setup perfectly. However, Friday night was a little different. We had a HUGE storm roll through. While the crew was reading off alignment numbers all of a sudden, the wind picked up to what seemed like 100 mph! Our awning began to lift and all hands scrambled to get tied down to anything heavy – cement blocks, the race cars, golf cart, pit car…. Rental vehicle. We gathered up the awning side walls to prevent us from becoming a sale and waited out the storm. Sadly – our BBQ dinner was fell victim to the wind however, we made it out without damage. Assessing the damages later that night we saw full awnings town down, cross beams laying on cars and a stacker flipped on its side. Crazy!
Saturday – Quali/Race 1
The storm had destroyed all favorable track conditions from the previous testing day. No rubber, wet, cold, sand washed across the braking zones. We set out to do our best. Jeff Ricca got a reasonable lap which put him 7th. Mike Sousa dropped a wheel at the exit of T4 on his hot lap and ended up throwing it away – he sat 11th.
The race was warmer, and the name of the game was tire management. Sousa knew that he had to work up through the field, so he held back and made sure to conserve tires and only take low risk passing attempts as they presented themself. Ricca was forced to defend quite a bit and keep up with quicker cars ahead. The field spread out but was reigned back in by a full course caution which worked to both car's advantage. Sousa was able to move up right behind Ricca and were working together to gain time on the cars ahead. Things took a turn for the worst for the 78 car when an exhaust gasket failure caused a small fire which rendered the car undriveable. Sousa finished the race in 5th place.
Sunday – Race 2
Unfortunately, the small fire on the 78 caused irreparable damage to some harness and motor components that could not be sourced within 24 hours. The 78 was sidelined for Race 2. Sousa started from 8th and on the green flag had to take evasive action to avoid a 2-car incident at the control line and a 3-car incident in turn 1. SAFE! Sousa emerged on the other side now in 4th place. The race was hard fought with non-stop battles for 3rd. Action all the way to the finish line as Sousa touched the bumper of Powell a few times in effort to get around but Sousa ended up finishing 5th.
All-in-all the event was hard fought and worthwhile. The team gained very good experience with setup for Sonoma and a list of new changes that can happen before Circuit of the Americas. The 78 can be repaired and will be back on track with the 88 in a few weeks' time. Looking forward to COTA!
Special thanks to our 2021 partners this year. Their support in our program has helped us tremendously.
Liqui Moly – LIQUI MOLY offers the right motor oil for every vehicle in the world. Learn more. Additives. Additives. Our additives protect your engine, reduce fuel consumption and save you money.
Xclutch – XClutch is the American performance division of Australian Clutch Services. With over 25 years of experience, our performance kits are designed and developed to provide the ultimate clutch solution for the street or the track.
K1 Race Gear – 1 Race Gear was born in 2003 with the philosophy of offering products to our customers that we ourselves would be proud to use. At K1 Race Gear, we are racers ourselves, and we understand the value of buying quality racing products at a reasonable price. To meet the needs of our customers, we strive to provide quality racing equipment at K1 Race Gear - including racing shoes, suits, driving gloves, helmets, and more - to racers of all ages at a great value.
SPL Parts - SPL Parts designs and builds top shelf suspension components for street and track cars including Nissan, Infiniti, Scion, Subaru, Porsche and more.